Do modern social communications distract us from evangelizing? Or do they open up new opportunities to evangelize? That depends on how well we use them. With the explosion of digital media, digital evangelization makes it easier than ever to bring Christ to the masses. But are we, as a Church, using digital communications effectively? If we take an honest look, I think we'd have to say, "no." That's why I'm issuing this digital evangelization call to arms! But first, let's do a little time travel…
Once Upon A Time, Not So Long Ago…
It's 8:00pm on a Tuesday night in 1955. Like thousands of other households across the country, your family tunes in to the ABC Television Network. Your TV needs time to heat up, and then an image emerges from the blackness of the screen. The camera pans across a study room to an oddly dressed man in cassock and cape. But for the cross around his neck and the disarming smile on his face, you'd think he was a vampire.
He opens with a knee-slapper of a joke that has the crowd rolling with laughter. And he grins from ear to ear, visibly pleased with the reaction. Then he launches into his topic. Tonight he's going to tell us about "The Divine Sense of Humor." Nothing is scripted. He knows his topic inside and out. He just talks to us as if we're having an intimate chat in his study.
At the height of its popularity, Archbishop Fulton Sheen's "Life Is Worth Living" appeared on at least 15 TV stations. It was viewed weekly by an estimated 30,000,000 people, and loved by both Catholics and non-Catholics alike. Sheen received several Emmy Awards for the program. He's the great example of what can be achieved when modern forms of social communication are used effectively in the service of the Gospel.
Where We Are
Consider this. According to conservative estimates: 
That's a lot of statistics, I know. Maybe you got a little discouraged seeing how much of our precious time is given to these "distractions." After all, what would the Church be like if we devoted this amount of time to learning, praying, and living the Faith? What would the Church be like if we devoted this much time and energy to evangelization on the digital continent!
Where many of us see nothing but unfortunate distractions, the Church, like Fulton Sheen, sees great opportunity for sharing the Gospel. But to make this happen, we must be willing to invest our time, talent, and treasure.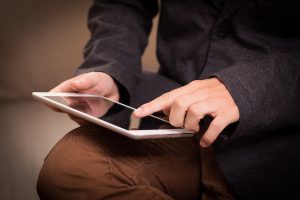 Where Evangelization Needs to Happen
The statistics above show that we are increasingly becoming citizens of what Pope Benedict XVI called "the digital continent." We spend more and more time in front of screens. And we spend less and less time interacting face-to-face with others.
It's the Church's duty to meet every person where they are, and share the Gospel with them right there. But when it comes to digital evangelization, the reality is we've fallen way behind.
With hundreds of television channels now available, only a very small handful are Catholic. And while the content on these Catholic stations may be good, the quality of appearance is not up to modern standards. Similarly most Catholic radio stations operate as AM stations – the cheapest platform out there, and often the most difficult to tune in to. And you can probably count on one hand the number of Catholic websites that are truly "world class."
The Second Vatican Council, as if foreseeing this situation, issued its own digital evangelization call to arms: "It is quite unbecoming for the Church's children (priests, religious, and laity) idly to permit the message of salvation to be thwarted or impeded by the technical difficulties or expenses, however vast, which are encountered by the very nature of these media" (Inter Mirifica 17).
Just as Catholics once had the duty to support the Church's foreign missionary efforts, today we have an obligation to support the Church's digital evangelization efforts on the digital continent.
A Digital Evangelization Call to Arms
 "The Church […] believes that its (missionary) task involves using the media to proclaim the good news of salvation." As partners and co-workers in the Lord's vineyard, we lay faithful need to get involved. We need to take evangelization on the digital continent very seriously. We need to devote more of our time, talent, and treasure to helping Catholic websites and blogs, newspapers and periodicals, radio stations and podcasts, TV stations and programming, to flourish! "All the children of the Church should join, without delay and with the greatest effort in a common work to make effective use of the media of social communication in various apostolic endeavors" (emphasis added).
So here's my digital evangelization call to arms for you. Are you a Catholic with a heart for the Church who longs to see Catholicism flourish again? Do you have a special skill that you can use to aid the Church's evangelization efforts on the "digital continent?" Then put your talents at the service of Christ's Gospel! If you're a person of means, pick a media-based apostolate (Word on Fire, EWTN, Lighthouse Catholic Media, etc.) and give generously of your treasure to aid them. It's not about the money. It's about meeting people where they are, and bringing the Gospel to them!
About the Author
---
Philip Rolfes is a freelance direct response copywriter, connecting people with the missions they're passionate about.
You can search our site for Catholic job postings, or to find more Catholic Professionals to hire or outsource work to.